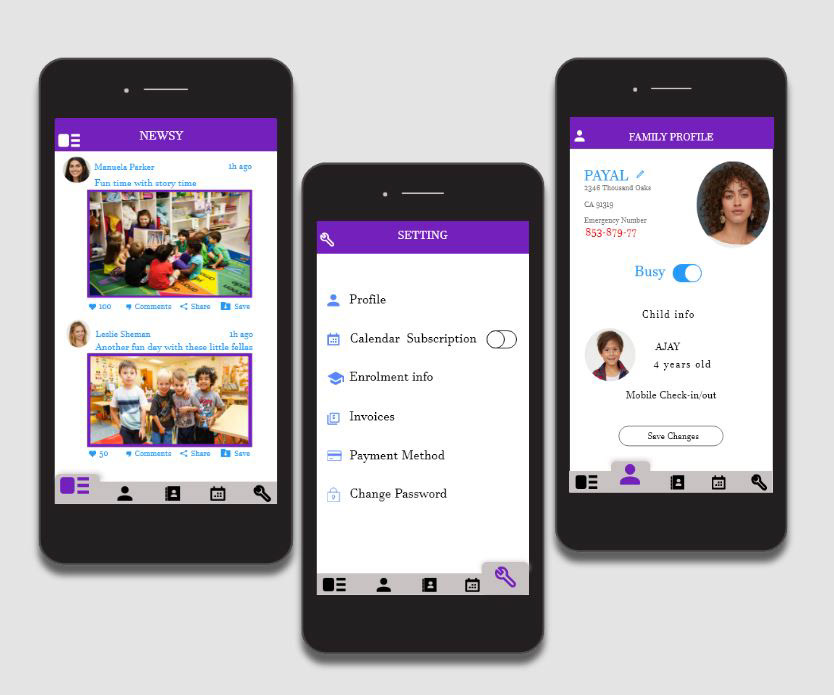 Having children brings great joy and excitement, but when both parents work, managing childcare introduces new worries and new st

ress in their daily lives. Today's childcare providers use apps and email—or more commonly, paper handouts and white boards—to push information to parents. But parents have a strong emotional connection with their child, so they want a direct line staff.
Parents:

Not able to get enough information from daycare about a child's daily activities and the daycare center's upcoming events. 

A desire to improve communication with teachers.
Teacher:

On any given day, parents vary in their child's pick up & drop off times.  If they are running late, they don't inform us. As a daycare teacher, we have to stay and wait until parents come to pick up their kids. I wish there was a better way to communicate with parents.
A
digital daycare service to

address the needs of both the parents and daycare staff, better
 way to communicate with each other.
As a solo designer, I collaborated with parents and teachers to design the digital service and app.   
Methods:  UX/UI Design | Service Design | Design Thinking | Design Research  
Tools: Paper & Pencil | Adobe XD | Miro | Visme
Consumer Research: 
After One-to-one interviews with teachers & parents, there was an inconsistency between parents and teachers regarding communication and how to provide information to parents at a reliable time frame. 
The Current Parent's daycare Experience:
I synthesized their stories into a map that describes the parent's current experience interacting with the daycare.  It identifies challenges and opportunities to build better communication and relationships between parents and teachers.
From the formative research findings. I summarized parents' and teachers' representative daily tasks, needs and goals.

After analyzing customer experiences, I pulled specific insights and aggregated into themes:  

Let's align insights per the table below:  I want to show off your affinity mapping skills.


- Insights aggregate into groups and then multiple groups aggregate into themes which drive your how might we question


- I also did some work to separate the communication service from the mobile check in s

ervice.
 After summarizing each theme, I identified the need for 4 interactive services.
This enabled me to design each of the 4 services, then design an app to embed these services into parents' daily routines.
Service Design Benchmarks:
To create four new assisting services, I identified design patterns for other-industry apps strong in each service area.  With these design benchmarks identified, I was able to design the parent's app to meet consumers' escalating expectations for assisting services.
Workflow for parents & daycare staff
After synthesizing all insights from users' interviews and the competitive analysis, I reached the conclusion that two-way information, interactive service could fit better in this scenario. 
I made a 1st low fidelity to study how the user will explore this feature and what are all the circumstances they use in this app.
Based on the user testing feedback, I propose my design in more seamless integration, simple and polite.
1. Key Refinement:  Newsfeed Service
Newsfeed feature is nice.

I like how there are pictures and videos of kids' activities, but there is a way for parents to customize the gallery at their end.
2. Key Refinement:  Switch Modes
As a teacher, we are not allowed to carry cell phones all the time if any parents called. I won't know until I have free time. As a parent, I want to know when the teacher is free/busy so that you can schedule a call with her during that time.
Use 1-click to switch modes between "Busy" and "Free", adjust the amount of feedback you receive.
3. Key Refinement:  Calendar Subscription 
I like the calendar subscription idea.

As a working parent to see upcoming events in advance I can update my home and office calendar ahead of time

not only that, but they can make an appointment with the teachers to meet face-to-face.
4. Key Refinement:  Mobile Check in/out
I like the mobile check-in/out feature.

I don't want to depend on teachers to check-in my child's time. And set up a reminder to when to pick up my child.
5

.

Key Refinement:  Contact 
With the help of Media richness theory, I am able to understand effective methods of communication.

As a reference to categorize and analyze different types of communication media and their capabilities of carrying information. With contact feature parents and teachers have up to date communication either by video call/phone call/text message to discuss children's progress/area of improvement.
Stepping back, I realized that today's parents think differently. As digital natives, they have escalated expectations that must be met by any business that serves them.  They expect a range of real-time, interactive services to simplify their daily lives.  So their 'expressed problems' represent their escalating expectations for service. 
The measure of success for this product is to observe a representative of each person performs four tasks without any difficulty or confusion.
          

 For the future,

I would like to explore the idea of how to create a task that w

ould help daycare staff to gather and input daily reports easily. I would like to spend more time collecting data from the daycare staff/owner and create a platform for a service provider on how to make digital service more easy and reliable for day care staff also.